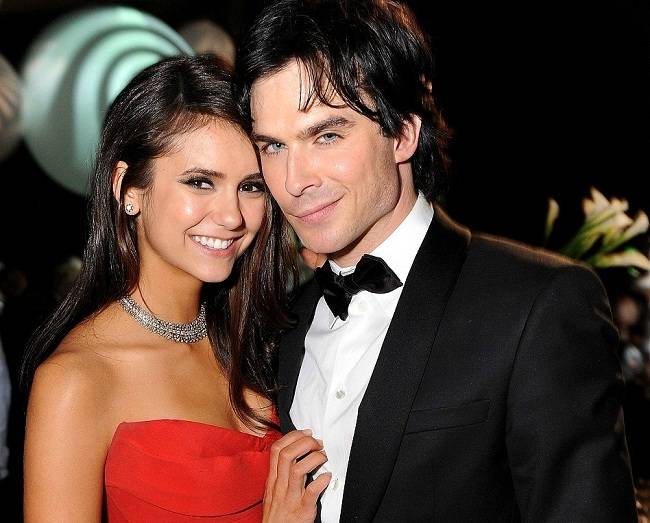 First of all, I have to do a facepalm. Ian and Nina are indeed in a relationship. Rumors have been floating since about this time last year, maybe even earlier. But, a few weeks ago, they came out and went public. Long time to hide that, huh?
It's crazy on the show, no doubt. Stefan's finally seeing his humanity again, Damon and Elena are or so it seems becoming involved with one another. Elena's torn between who she think she loves and who she actually loves.
Who fits those descriptions? You be the judge. But in all reality, there's no telling what will happen before the season finale in a few weeks. There's been a huge leak of a hint about the finale from Ian, along with a few more from Joseph Morgan Klaus that are talking about huge decisions that will ultimately change the direction of the show. The most popular one, of course, being that of who Elena will choose.
Seeing that Stefan has become so distant the past year almost, I would guess it might be Damon. But this show is completely unpredictable. Elena could feel utterly guilty for kissing Damon and all, and fall back in the arms of Stefan. Or, she could see how bad things get with Stefan and realize Damon could be better for her. My personal thought is that that involves the books on which the show is based upon: In the books, Elena dies; she drowns in the river and she has vampire blood in her system.
She returns as a vampire and falls in love with Damon instead of Stefan. I think it could have something insane along those lines, but again I may be wrong. I love to make theories of this show. It's crazy what I come up with.
And last but not least: The lives of the actors have nothing to do with the plots of the show. What goes on with Ian and Nina after hours doesn't impact the progression of the show.
In fact, the writers more than likely have had this whole thing planned for months now. I'm glad you asked this question. It was fun to answer. Maybe you'll like my theory about the finale. But either way, it's a possibility.