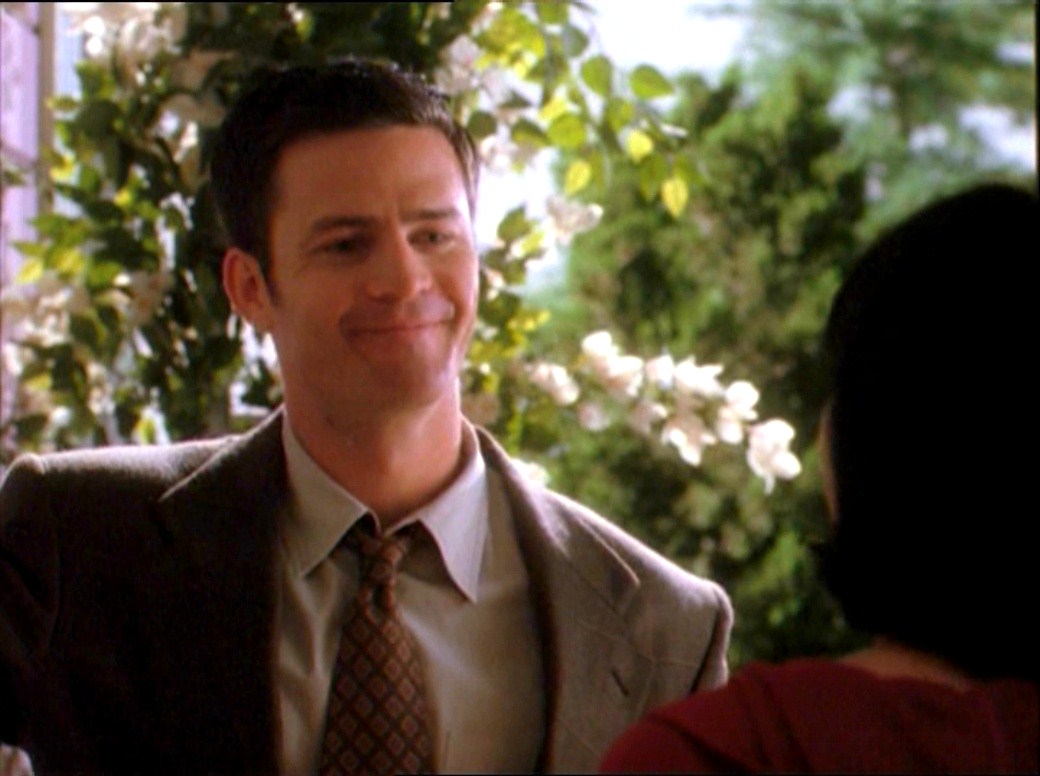 Season 1, Episode 04 Episode Number: Prue is walking towards the front door. She opens it and Andy's there. I was no where near the neighbourhood, thought I'd stop by. Honest man, I like that. She steps aside and Andy walks in. She closes the door. So, um, I had a great time last night. But I forgot to give you something very important. He gets a little square box out of his coat pocket. She reaches for the box but he pulls it away. Consider this a preview. She grabs the box off of him and opens it up.
To the Calistoga Spa. We leave Friday night after work. Although, it has been over a month since we I just want to be with you, away, together. He leans over and kisses her. Happy birthday to me. Mark Chao's mother's place. Mark and his mother are standing outside. He is holding a balloon. Give me a break, mum. There are a lot of hungry spirits out there, Mark. You're like the Chinese Shirley MacLaine, you know that?
Better safe than sorry. You should have more respect for ghosts, Mark. If your grandmother were here She'd warn me about all the evil spirits walking the streets in Chinatown, I know, I know. Chao takes an amulet off a hook next to the door. You should take this for protection.
He hooks it back up. Maybe the ghosts need protection from me. He kisses her on the cheek. I'll be okay, mum. I can take care of myself, okay. He hands her the balloon. Mark is walking down the crowded street. Hey, how are ya?
Mark walks down an alley. A gang surrounds him. Is this the guy? What do you want? Tony gets out his gun, points it at Mark and shoots. Mark falls to the ground. His spirits floats out his body and stands aside. Tony kneels beside Mark's body and places a ring on his finger. Another guy pours kerosene all over Mark's body and Tony lights a match. What are you doing?
Mark's body is engulfed in flames. Piper is there putting birthday invitations inside envelopes. She notices the invitations. Phoebe, you were supposed to send these invitations last week, the party is Friday.
We're right on schedule. The restaurant is reserved, the menu selected, the cake has been ordered. They hide the invitations in a drawer. That's because I did all those things. At least tell me you've managed to buy Prue something other than your traditional birthday gift. What's my traditional gift? A card, three days late. Yeah, well, I decided to break that tradition and start a new one. You bought Prue a gift? Where'd you get the money to pay for it? Hey, I forgot to ask; how was your date with Andy?
Great, until he asked me to spend my birthday at a spa with him. Well, my body did A weekend of rest, rubdowns and room service. Piper bangs a notepad down on the table.
Phoebe remembers about the party. I mean, uh, you could be right. Going away with a guy, is like Plus, you need a week to prepare for a weekend away. She leaves the room. If you had sent Andy his invitation we wouldn't be in this mess. Okay, what are you talking about? You heard Prue, she doesn't want a party. So you should be glad that I flaked, besides, you know as well as I do, she's gonna go away with Andy. Now, if you'll excuse me, I have a present to pay for.
Which means I have a job interview. Phoebe and Frankie, the hotel manager, are there. You know why our hotel does psychic readings at the bar, it's kind of a trademark. Well, that's why I'm here. I saw your ad in the Chronicle. I am a natural born psychic. Tea leaves, tarot cards, crystal balls, what? No, I can see the future. I mean, I can't always see it, I never actually know when it's gonna work. Usually when I touch someone or I'm in the same general area as them.
It's kinda hard to explain. She stops him from walking off. Wait, Frankie, hold it. You're having dinner with a blonde woman, she's gorgeous, all over you.
Then some red head shows up. Ooh, she looks pissed. When can you start? She's on the phone talking to Piper. So have you made up your mind about Calistoga? I don't know, I keep thinking it's a bad idea but then I think well what's the big deal? It's not like we haven't already slept together.