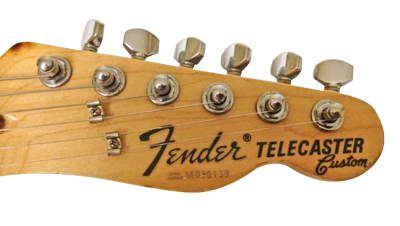 If you're not familiar with my site, it's simple, and you'll love it or hate it: It's not a fancy site but it remains unchanged since '98 so I figure, "if it ain't broke - don't fix it. Just click on any underlined text and it should open a picture; if you move your cursor over the pic and there's a magnifying glass displayed instead of your cursor, click the pic and it will expand it to larger size.
Gibson 57 Classic Zebra and Burstbucker 3 Zebra. Both are 4-conductor for a variety of wiring applications and have Zebra bobbins, which I believe is the best sounding color combination.
Classic look — gloss black with a rosewood board. Nice shape and plays beautifully. Stock pickups are quality Custom Shop models with a Twisted Tele in the neck position and Broadcaster at the bridge. Other features include new bent steel saddles with elongated string slots, highly finished frets, detailed nut work and rolled fretboard edges. This guitar has seen very little playing time; frets are almost new.
Worst flaw are a few clear coat dimples and a finish touch up on the edge shown above that is nearly impossible to spot. Lindy Fralin Steel Pole 43 Strat. Adjustable Steel Pole Pieces and Ceramic Magnets give this pickup an aggressive tone and is the highest-output Strat pickups Fralin makes. The midrange is prominent and it sounds great on K pots. Lollar Imperial Low Wind Bridge. Top quality humbucker, especially good choice for your archtop guitar. Exceptional definition for chord voicing and excellent presence that cuts through a mix.
Also matches well with Les Pauls that sounds darker in the neck position, or for guitars with darker tones in general. Good choice for a project guitar or an upgrade on most imports.
For a dirty tone I pushed the amp harder and added a Dunlop Shin-juku drive. The bridge pickup has a rich bite, with plenty of harmonic overtones at your fingertips; ideal for those long spine tingling Santana style sustaining notes. The neck and middle position produce beautiful classic tones, and with some tone rolled of you can produce that vocal vowel like Santana tone; perfect for expressive lead melodies.
The tone control was also very effective, and used in conjunction with the various pickup selections, and different volume settings help produce some beautiful soulful tones. But saying that there are plenty of tones to be had from this fine instrument. Celestion G Heritage 65W Speaker. Super clean, don't think it's ever been installed. It was used in many of Marshall's 4X12 cabs and works fine in that application, but also sounds great in a single 12" or 2X12" combo.
Excellent note definition, plenty of power handling, and not overly bright. Celestion G12M watt Greenback. Classic British tone, warm with lots of growl. Perfect for lower powered amps, providing some speaker break-up at lower volumes compared to a 75w or 90W speaker which has to be played at ear-bleeding levels to break up. There is a proliferation of budget combo's, nearly all having a major weak spot with the speaker. New, old stock, never installed.
Avatar relabels these speakers after putting them through a break-in process, exercising the suspension for 15 hours. The result is a warmer tone right out of the box. This process warms up the low end and smooths out the midrange slightly. Great speaker for any guitar application, especially Rock and Metal. Large heavy 50 oz magnet. One of the classic shred guitars of all time. Built with exact specifications with impeccable fit and finish, it represents the fine quality that comes from ESP's Tokyo factory.
Since ESP began pushing their cheaper Ltd line in the 90's, the real ESP's have become scarcer, especially as prices have risen considerably. Whenever I find one that I can put out at a decent price, I'm all over it. Features include offset double cutaway alder body, maple neck, 24 extra jumbo frets on maple fingerboard with dot inlays and ESP at 12th fret, This guitar has barely been played and has no player's wear at all.
Frets are immaculate, no scratches on body, neck, or headstock, fretboard and neck have zero discoloration, which says a lot considering how quickly these neck change color. It's clean enough that you wouldn't think twice if it were hanging as a new guitar in a store. Set up is perfect - low and fast. It sounds fantastic as well, with no ghost notes when playing double-stops at high gain settings - all notes ring true and long. Tokai Super Edition Neck. Nice shape, especially for a neck that was made over 30 years ago.
Had a string retaining bar removed, three small holes plugged — now uses a vintage style string tree. Factory black headstock, would look great on a black body. Carvin tuners replace original vintage style. Sets up very nicely…no issues. You'll notice the F-holes which are a giveaway to its semi-hollowbody construction. Inside the maple body is a mahogany center block with spruce braces and mahogany rim liner.
Another departure, the fretboard is outfitted with rolled black binding, matching the body's black binding. The rosewood fretboard is adorned with the usual trapezoid inlays on a rounded "C" mahogany neck and black Corian nut. It's finished in a high gloss nitro "Ginger Burst" finish. Pickups are '57 Classic and Super '57 Classic, rated at 7.
Other features include Kluson tuners with single ring tulip buttons, nickel-plated ABR-1 bridge and stop tailpiece, single-ply black pickguard, bell truss rod cover with engraved F-hole, and black top hat knobs. With factory potted pickups, it can stand up to higher gain settings on an amp with no problem. Includes certificate of authenticity, warranty, and original brown case.
Stunning condition, as clean as a new floor model. The SG silhouette is one of the most recognizable guitars of all time and has remained largely unchanged since , when it was released as the "new" Les Paul style. It has been in production continuously since that year, the longest running solid body model in Gibson history. The SG Standard's remarkable sustain is due largely to two unique features: It features the neck profile of the mid's, not at all chunky as the 50's style, but nicely rounded.
Famous players of the SG Standard is a who's-who of rock music greats including Clapton during the "Cream" era, Tony Iommi and Angus Young both users for over 30 years, and Derek Trucks, who also uses extensive slide work in his playing. Includes hardshell case, factory checklist, warranty, tools and manual. Seymour Duncan Overdrive.
Perhaps, but while the does lean toward the revered TS, it's also more versatile. Specifically, it has an active 3-band EQ controls in place of the single tone control typically found on most overdrive pedals including the TS and TS9. It also features a true bypass design. Click here for a demo or here for a fun shootout with a TS9. Engl BC Reaper Pedal. Click here for a brief demo. Neunaber Inspire Tri-Chorus Plus , pic2. Fine rackmount quality effects out of a stomp box.
The effects knob selects: Mooer Skyverb Reverb , pic2. It also features true bypass and is housed in a full metal shell. For a good demo check out this one on YouTube.
Other features include flamed maple cap over a mahogany body, mahogany neck with East Indian rosewood fretboard, edition PRS bird inlays, Phase 2 locking tuners, PRS tremolo and nickel hardware. Neck is the Pattern neck, much like the old Wide-Fat. Offered in beautiful condition with typically superb set up. Includes PRS case, trem arm, tag and other paperwork.
Frets are in very good shape and the guitar plays with ease. It arrived with just one pickup cover but we can add or remove as desired. The vibe of these old Greco's is amazing and, in a blind test, you'll swear you're playing a vintage Gibson. The is an excellent mid-line unit from Digitech, perfect for stage performance or as a great practice tool. This unit contains a looper, great amps, cabinets, and effects into a compact metal chassis, allowing USB recording or run straight to your live rig.
You also get a built-in drum machine, a tuner, a phrase trainer, an expression pedal, and an auxiliary input. Manual and other downloads available here. Lovely early model Traditional finished in transparent blue, i. Released in , the Traditional has the look of the vintage 50's Les Paul you know and love including a glossy nitro finish, vintage tuners, and standard old school electronics.
This model features a non-chambered mahogany back for a thick, meaty tone with a thick maple cap for the classic blend of warm mahogany and snappiness and clarity of the maple top. It does have the Swiss cheese routes that have been used since ca. Chrome pickup covers were removed by original owner and not available.