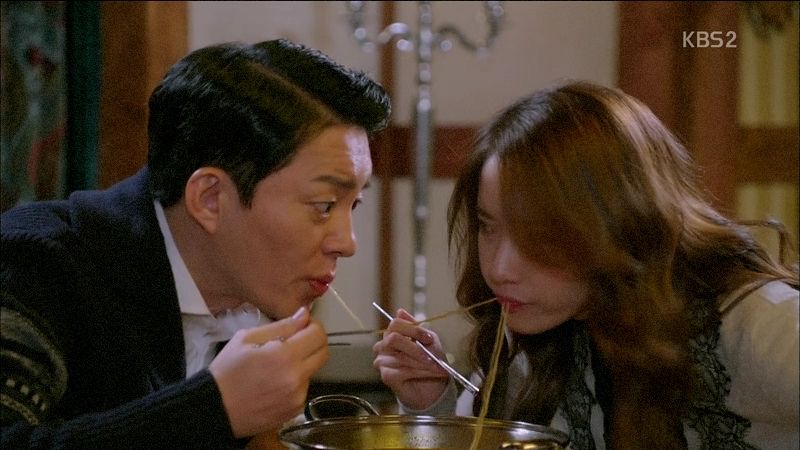 This drama continues to thrum along with all the right beats even if all the narrative milestones are nothing new to behold. Right now Da Jung and Yul are standing right at the edge of trying to figure out their feelings for each other within the context of their agreed upon contract marriage.
Happy-go-lucky Da Jung takes it a day at a time, but stoic and hesitant Yul tries to put up a fight despite it being a losing proposition already. Hye Joo is turning out to be less vindictive and more pathetically hopeless. It was enlightening to hear In Ho point out that Joon Ki pretty much has a contract marriage with his rich wife as well, making it clear that any marriage based on need and mutual agreement on certain terms is no less a contract of sorts.
Its clear Da Jung and Yul are giving their marriage a shot in everything other than the love part which makes it as valid as any marriage where each party fulfills the duties of husband, wife, and parent. I continue to love all the conversations and dialogue in this drama and the quick resolution of any disagreement between Yul and Da Jung emphasizes how thoughtful and considerate they are of each other. They may not see eye-to-eye, but they are not averse to looking at the situation through the lens of the other person.
Da Jung is winning over the support of the kids little by little without a lot of fanfare using only care and affection. I can accept that her optimistic personality is probably the reason In Ho started to like her as well, and his candor in confessing his feelings to her did make my heart twinge for a second since he looked so sincere. Da Jung runs after the errant Woo Ri and clearly needs some lessons on basic traffic signals because she darts into the cross walk after the light turns red.
In perfect K-drama coincidence, a truck happens by and is about to mow Da Jung down and end our drama early until Yul magically appears and pulls her to safety. They roll a few times sadly the rolling is done in public and not anywhere in the sack and land by the sidewalk. Da Jung is surprised to see hubby here and Yul understandably yells at her for yet another impetuous near disaster averted.
She gets up and he tries to only to yelp in pain. Hye Joo is holding yet another one of her press conferences when she hears of the near accident and informs gathered reporters. Da Jung and Yul are both checked into the hospital, with Da Jung being fine but Yul going in for x-rays. He comes back and reveals his pinky is fractured.
Hye Joo is annoyed that Yul got hurt trying to save Da Jung. Yul tells Hye Joo and In Ho to go handle the reporters. She is but is worried about him and wonders why he rushed in to save her. He reminds her that he is doing his duty as a husband per their contract, and he thought about why she concealed information about Woo Ri and realized she is doing her duty as a wife.
Yul tells her to get dressed and they are leaving now before he needs his blood pressure checked. Yul and Da Jung walk out with her clutching his arm but the position is awkward so Yul drapes his arm around her to show their solidarity before the reporters.
Hye Joo and In Ho follow behind looking peeved as usual. Reporter Byun goes to the precinct where Yul tried to get Da Jung arrested as a stalker and talks to the cops by being friendly and bearing energy drinks. Woo Ri is in his room when Man Se pops by to inform his hyung and their dad is home and gets a glare in return. I would be more contrite, Woo Ri, since you almost turned your step-mother into truck roadkill. Yul and Da Jung return to their bedroom and she offers to help undress him since his hand is bandaged.
She helps take off his jacket, his tie, and then tries to unbutton his shirt only to send a button flying. Yul immediately pulls his shirt closed and asks if Da Jung is a pervert? Yul orders her out and she heads to find Man Se.
Hye Joo is drinking alone and all I have to say is girlfriend needs a boyfriend really badly. She calls In Ho out to drink with her but he declines since he has another engagement. He reminds Joon Ki that he has his own contract marriage. Yoon Hee is practicing seduction techniques and tries it on Joon Ki when he comes home.
Joon Ki is neither amused nor interested and ignores her as usual. She tries to cajole him to not be mad at her dad. Joon Ki tells her to leave the room and she does. Joon Ki thinks about what In Ho wants him to do to Yul and realizes he means business. Yul looks at a picture of his kids and zeroes in on the rebelling Woo Ri.
He stands up and goes to the window to brood. Da Jung comes in to get him for breakfast and pauses when he turns around to look at her. His presence flusters Da Jung and she quickly leaves his study.
She grabs her heart outside and wonders why its beating so fast. Da Jung is sewing frogs on the bed while Yul gets ready for work at his desk. She sees a halo around him and a heart pops out from her eyes and she swoons at him. Da Jung goes outside to practice kendo and clear her head.
Yul comes by and corrects her moves and gets behind her to show her to correct positioning. The President knows about the port construction and asks him to keep the country running. Yul wants the project reassessed and if there are any evaded taxes it can be collected to use for the people. He wants to do things right despite the President urging him to not cause any problems.
Yul and Hye Joo leave the Blue House and she wonders what he will do if the President ends up opposing his strategy? Hye Joo invites him to lunch but Yul declines to go home and spend time with his kids.
In Ho asks if it was a reporter and Dad says it was someone claiming to be a fan of Yul. Dad turns around and asks In Ho is he if dating anyone since he is an eligible bachelor. The editor thinks this would make a good story and wonders if the Prime Minister knows about his wife and aide being so close? When Na Ra is asked about her homework, she reveals Da Jung thinks kids having fun is more important. Yul then imagines Da Jung chiding him for berating the kids at the dinner table. His kids stare at him oddly and each of them decline his offer to practice kendo after lunch.
Someone is missing his wifey. In Ho finds the lurking Scandal News reporters at the hospice and chides them for following him and Da Jung. He threatens to tell Da Jung unless they quietly leave.
Da Jung is walking outside when In Ho tosses snow at her. She packs a snowball and throws it right back and they engage in a feisty snowball fight. Yul waits for Da Jung at home, checking his phone constantly. Yul is sewing more frogs for Da Jung when he gets distracted and pricks his finger. Yul walks outside and finds Man Se waiting in the cold for Da Jung to come home. Da Jung pulls up and Man Se runs into her arms for a hug.
After In Ho leaves, Da Jung asks why Yul is outside and he claims he came out for fresh air and is totally not here to wait for her. Even Man Se looks puzzled. Yul and Da Jung go back to their bedroom and he sits down at the desk and wonders why In Ho never told him about his brother at the hospice.
Da Jung says she found out from her dad as well. Da Jung then switches to perfect wife mode and brings Yul his paperwork, hot cocoa, and changes the toilet paper roll in the bathroom. Yul orders Da Jung to tidy up the room and she eagerly does so.
Da Jung wants to read to him first before she goes to sleep. Yul quickly climbs into bed and goes under the covers while Da Jung grabs the book and starts reading.
Yul stares at Da Jung as she reads and she keeps reading until she sees that Yul is asleep. She looks at his bandaged hand and writes a note on it and thanks him for taking such care of her dad. She wishes him a good night and turns off the light as she leaves the room quietly. Yul leaves for work the next morning and Man Se asks for a full hug before leaving. Before Yul gets in the car, Da Jung has the kids give him a very proper farewell.
She also tells In Ho fighting before he leaves. Yul and In Ho are out visiting a marketplace and hearing from the vendors about their complaints. Yul walks by a vendor for hair accessories and he buys something for Na Ra. He notices a black rhinestone bow hair clip and buys it as well.
In Ho gets a call and tells Yul that the President has agreed to review the port development project anew. Joon Ki watches the news report and turns off the television angrily. Da Jung comes by with tea and suggests he lighten up on the homework load for the kids rather than buy them presents.
This reminds Yul to ask about her homework and he decides to check it right now. Da Jung hands him her homework and says she heard about the port review news and congratulates him. Yul wants to invite In Ho and Hye Joo over for a drink since they worked so hard to help him. He is about to take out the clip when Da Jung says hair clips are for elementary school kids and she hates it. Yul gets annoyed and tells her to wear her hair however she wants and then nitpicks at her homework journal for being shoddy work.
He then gets a call from the President asking to meet him. He pours everyone another glass and Da Jung wants one too. He smiles and is about to pour her one when he pulls back and tells her to drink less, reminding her of the drunken time she ran into him. Da Jung sadly goes to nibble on a snack and Yul relents and pours her a glass but tells her to sip slowly.
Hye Joo calls Da Jung out to make more food as an excuse to talk with her.