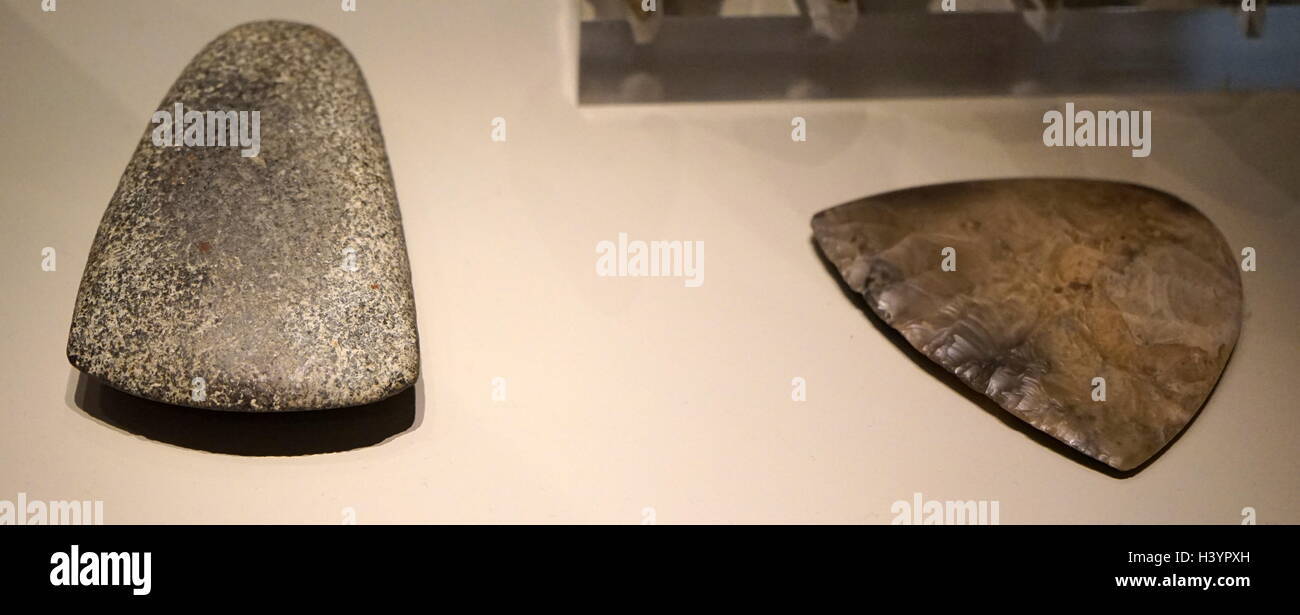 Southwest Asia Even if metallurgy initially began as an accidental discovery, the practical application--making, say, the first cast-metal tool--still would have required a long and rigorous thought process involving a number of conceptual steps and a high level of abstract thinking. Our hunter-gatherer ancestors never exhibited such a level of capability. In fact, up to 6, years ago they had only just made the connection to use stone and bone for tools and hides for clothing.
Yet suddenly, during the Neolithic period, about 5, years ago, those few highly developed civilizations appeared, and they included the technical "miracle" of processing metals among their developments--at the same time when people less than miles away were still living primitively.
The sophisticated artifacts found in Sumer and Egypt exhibit extraordinary artistic imagination, technical ability, and conceptual strength. By BC the arts of jewelry making, painting, and sculpture were already fully developed in Egypt and Mesopotamia. The Genesis Race The Sumerians also realized--or were told--that if different ores were blended together in the smelting process, a different type of copper could be made--one that flowed more easily, was stronger after forming, and was easy to cast.
Thus we can credit them with the creation of the first alloy-bronze-which required far too precise a mix of tin and copper to be merely an accidental discovery.
An ax head from BC was found to contain 11 percent tin and 89 percent copper. But tin, unlike gold or copper, is not found in nature. It exists in stannic oxide ore, which is hard, heavy, and inert. Smelting is required to separate out the tin, which means that the process to retrieve tin had to precede the creation of bronze--quite an involved and complicated road to walk, and certainly one that would require minds constantly trained on innovation and purposeful experimentation.
And because casting is the only way to shape bronze, the Sumerians even fabricated standardized molds to create the ingots they distributed to their cities. Such rigor, creativity, and focus certainly add up to an amazing feat for a people so recently ensconced in the Stone Age. Local villagers began plundering, forcing police to confiscate hundreds of finely worked stone vessels carved with images of animals and decorated with semiprecious stones.
Because the vessels were not scientifically recovered, their age and origin are open to debate. However, the Iranian archaeologist in charge of the site, Yousef Madjidzadeh, strongly believes most were made more than four thousand years ago, and that the society that made them predates ancient Mesopotamia.
This can be seen as another telltale sign of Bu Wizzer, the Land of Osiris, and the greater Mediterranean culture. Before the Pharaohs The central raw material problem of the Bronze Age was rather naturally, the problem of bronze. This problem was central because, as bronze was scarce, it was hard to come by, and the only metal of serious military value.
The main ingredient, copper, was of course common enough. And tin was very uncommon indeed in the Eastern Mediterranean and the Near East. Local tin deposits began to be exhausted, as early as the third millennium BC, and in the era of Sargon the Great unalloyed copper weapons came into use again in Mesopotamia, where first-class bronze weapons had been the rule before.
The Genesis Race Ancient Egyptian craftspeople also used a tube drill to hollow out holes. A tube drill is a hollowed cylinder with teeth on one end.
It worked based on the same principle as an apple-coring tool: Tube drilling is a specialized method that likely did not develop without the need for a large hole. Furthermore, making a bit strong enough to drill through granite is not a simple or primitive task. Petrie believed that to create a tool to remove hard rock, bronze tube drills were set with jeweled points. Of course this implies that mining, metallurgy, and bit manufacturing, not to mention generations of experience with grinding materials and rotational manufacturing techniques, must have occurred long before the structures on the Giza plateau were erected.
Before the Pharaohs The cutting of hard materials by using a soft substance, such as copper, wood, and horn, with a hard powder applied to it, has been a common method throughout history. Powder sticks were used in this way to wear away stone when scraped over its surface. Many assumed that the Egyptians used this method out of necessity.
Although this method sufficed for alabaster and other soft stones, Petrie argues that the early Egyptians did not use this technique with harder rock. He suggests that the cutting and shaping of hard rock such as granite, diorite, basalt, etc. The material of these cutting points is yet undetermined; but only five substances are possible: The character of the work would certainly seem to point to diamond as being the cutting jewel; and only the considerations of its rarity in general, and its absence from Egypt, interfere with this conclusion, and render the tough uncrystallized corundum the more likely material.
Before the Pharaohs According to traditional theory, the ancient Egyptians used hardened copper tools in quarrying and carving. Having worked with copper on numerous occasions, including the hardened variety, Dunn found this idea ridiculous. Certainly, copper can be hardened by striking it repeatedly or even by bending it.
However, after a specific hardness has been reached, the copper begins to split and break apart. This is why, when working with copper, it has to be periodically annealed, or softened, to keep it in one piece. However, despite the strength of the hardened copper, it will not cut granite.
The hardest copper alloy in existence today is beryllium copper. There is no evidence to suggest that the ancient Egyptians possessed it. If they did, it is still not hard enough to cut granite.
According to traditional historians, copper was the only metal available at the time the Great Pyramid was built. Consequently, it would follow that all work sprang from the ability to use this basic metal.
Dunn believes there is more to the metal story, that it may be an incorrect assumption to think that copper was the only metal available to the ancient Egyptians. A little-known fact about the pyramid builders is that they were iron makers as well. The Truth, in , during the Howard Vyse excavations, an iron plate twelve by four inches and an eighth inch thick was discovered embedded in cement in one of the shafts leading into the king's chamber.
The iron plate was embedded so deep in the masonry that it had to be removed by blasting the outer two tiers of stones. Upon removal, it was forwarded to the British Museum along with certificates of authenticity. Before the Pharaohs Primitive tools discovered through archaeological excavation are considered contemporaneous with the artifacts of the same period.
Yet during this period in Egyptian history, these artifacts were produced in prolific numbers with no tools surviving to explain their creation According to Dunn, the tools found cannot be explained in simple term and do not fully represent the "state of the art" evident in the artifacts. The tools displayed by Egyptologists as instruments for the creation of many of these incredible artifacts are physically incapable of reproducing them.
It is approximately two inches high and flares outward from a narrow base, and the interior is perfectly hollowed out and polished. One does not wish to postulate that such magnificent objects were common, but the indisputable fact is that this object, dating from the very beginning of the dynastic period of Egypt - approximately BC - shows an absolute technical mastery of the most complex grinding and polishing techniques for rock crystal as well as the ability to hollow out pieces successfully, leaving the interiors as polished as the exteriors.
It would be difficult to find a crystal grinder today who could equal the technical feat of producing the Hemaka Goblet. There can thus be no question that the Egyptians could have produced crystal globes if they had wished. The Crystal Sun Drawings of the designs on one side of the year-old ivory knife handle found by Gunter Dreyer at Abydos.
The designs are too small to see without a magnifying glass, and could not have been produced without one. The heads of the figures are about one millimetre across. The figures are bearing tribute, and are non-Egyptian, probably Canaanites. The prow of a ship is just visible. In the bottom row, most of the figures are bound, obviously having been taken prisoner. This knife handle was found in the tomb of an unknown predynastic king at Abydos, from the period known to archaeologists as Naqada II, and dates to circa BC.
The fact that magnification was being used at that date means that optical technology can truly be said to have been an integral part of high civilization since its very beginnings; from the earliest times known in excavations, it has not been absent. I believe that the way a level was found in ancient times was by weights and balance, using the force of gravity in a different way from that which settles the bubble in its correct place I took [a photo] of a carving on a temple in Upper Egypt.
This shows the ankh sign of life with two arms projecting from it, and a heavy weight suspended from each elbow. I believe this represents the ancient Egyptian method of achieving a level.
The Crystal Sun The Amratian peoples lived c. Their graves were also notable in that they lined them with mud walls. The Gerzeans were their successors, and among their achievements were the building of more substantial houses from materials such as reeds, mud and straw, as well as the construction of papyrus rowing-boats, complete with cabins. They also discovered the art of making faience, a form of blue-green glazed earthenware, and of casting copper tools and weapons, such as hand-axes, daggers and knives.
In addition to this, the Gerzeans imported lead and silver from south-west Asia and lapis lazuli from as far away as Afghanistan. The Gerzean culture came to an end c. They exhibit the Indus peoples of the fourth and third millennia BC, in possession of a highly developed culture in which no vestige of Indo-Aryan influence is to be found. Like the rest of Western Asia, the Indus country is still in the Chalcolithic Age - that age in which arms and utensils of stone continue to be used side by side with those of copper or bronze.
They are skilful metal workers, with a plentiful supply of gold, silver, and copper. Lead, too, and tin are in use, but the latter only as an alloy in the making of bronze.
Their weapons of war and of the chase are the bow and arrow, spear and axe, dagger and mace. The sword they have not yet evolved; nor is there any evidence of defensive body armour. Among their other implements, hatchets, sickles, saws, chisels and razors are made of both copper and bronze; knives and celts sometimes of these metals, sometimes of chert or other hard stones.
For the crushing of grain they have the muller and saddle-quem but not the circular grindstone. Their domestic vessels are commonly of earthenware turned on the wheel and not infrequently painted with encaustic designs; more rarely they are of copper, bronze, or silver. Whoever made bronze, enjoyed political and military power, he had the atomic weapons of his period. He also possessed tools of greater value than stone or copper.
The Sumerians are credited with the discovery of bronze around BC. Because of the relative rarity of substantial quantities of copper and tin, the discovery of bronze speeded up the development of sailing, colonizing, prospecting and mining.
Copper axes and ornaments were widely distributed, especially in central Europe and the Balkans. Patterns in Prehistory The "Battle Ax People," for example, is the general term for people who lived between about and BC, whose copper and stone axes are found all over temperate Europe, mainly in graves, along with their distinctive cord-marked pottery.
Patterns in Prehistory With the Iceman was an unfinished six-foot longbow made of yew. Why he would be on such a journey without a serviceable bow is one of the many puzzles.
A quiver made of animal skin contained 14 broken or otherwise unserviceable arrows of viburnum and dogwood, two with flint tips and some with feather fletching. Other contents of the quiver included two sinews, perhaps Achilles tendons of a large animal, that probably were for the bowstring; a line made from tree fiber; a bundle of bone points wrapped in a leather thong; and a curved antler point, perhaps a needle.
Radiocarbon dating of plant remains and other material finally put the date at between 5, and 5, years ago. At this time, European culture remained essentially Stone Age with only the beginning of metal use, while in the valley of the Tigris and Euphrates rivers the early cities of Sumer were rising, wheeled vehicles were coming into use, wine was being fermented and civilization generally was taking shape.